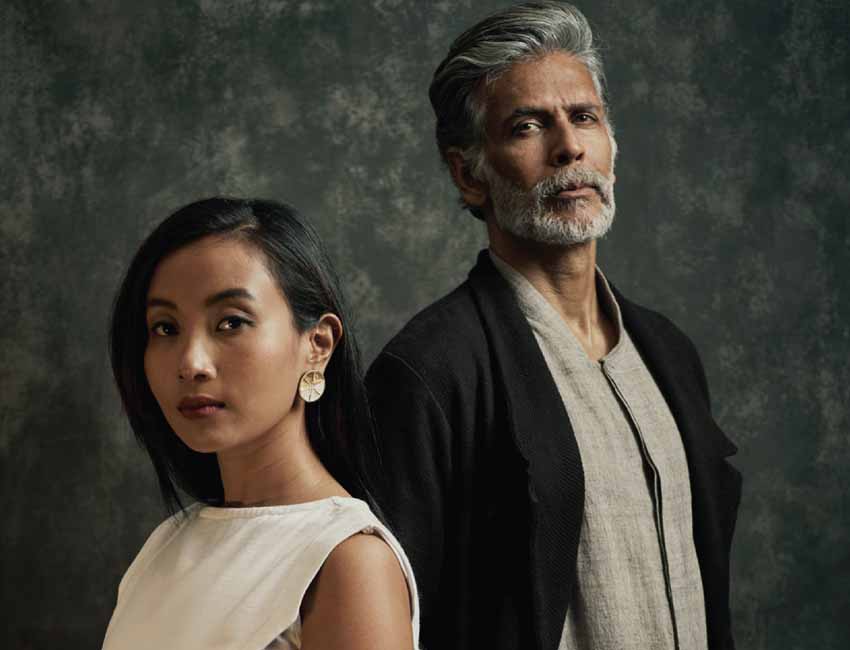 Fashion and the People for the Ethical Treatment of Animals (PETA) India continued its collaboration once again with Sustainable Fashion Day, at the joint phygital seasonless event presented by the FDCI x Lakmé Fashion Week, March 16 – 21. It showcased a beautiful Look Book of conscious leather free creations that were carefully curated from numerous top brands.
"With so many wonderful Vegan shoes, bags, and jackets available today, nobody has to hurt animals for clothing and accessories. The designers and brands showcased in PETA India's Vegan fashion Look Book know compassion is always in fashion," said PETA India Director of Celebrity and Public Relations Sachin Bangera. 
Also Read:-TRESEMME PRESENTED RITU KUMAR'S NEW SPRING/SUMMER 2021 COLOURFUL COLLECTION AT LAKMÉ FASHION WEEK.
 The very interesting and unique Look Book unveiled in a fashionable format outlined a day in the life of PETA celebrity super model and actor Milind Soman and his wife, Ankita Konwar who are two of PETA India's most vocal ambassadors and showcased some amazing killer looks without killing animals.
"Every time we wear Vegan, we are choosing to be kind. I've teamed up with my friends at PETA India to showcase some of the many luxurious Vegan, eco-friendly materials available these days at FDCI X Lakmé Fashion Week" said Milind Soman.
Ankita Konwar added, "PETA India's "Vegan fashion Look Book is about showing how easy it is to look killer without killing animals."
The celebrity pair, Milind Soman and wife Ankita Konwar made a strong plea in the hard- hitting PETA film, to choose an alternative to leather and go for ethical options like coconut leather.
Milind moved with great style and panache from dawn to dusk, exhibiting eight trendy ensembles, which featured a line of office wear, leisure, athleisure and date night killer looks without any cruelty to animals. Milind looked suave in a stylish, beige suit and black shirt, ruffled shirt with matching trousers and a sharply cut black jacket. Ankita looked elegant, as she moved through the day in a tiered, summer dress, a halter, red, trapeze style mini, an asymmetrical midi and a white flouncy creation.
Not To Miss:- LOTS OF UMMAAHH 💋 FROM THIS ADORABLE VIDEO OF KAJAL AGGARWAL…..!
The trendy garments were created without fur, leather, wool, exotic skins, cashmere, mohair or silk. The Vegan fashion featured the creations of top designers and brands like Proyog, Daisy Days, Urvashi Kaur, Outhouse, Papa Don't Preach by Shubhika, The Frou Frou Studio, Azga, Equiivalence, Ethik, Mati, Strey, A Big Indian Story, Paaduk's, Countrymade, Kunal Anil Tanna, Jenjum Gadi, No Nasties and many more.
The Look Book images were shot by Colston Julian and designed by Pulp India. Milind and Nakita's outfits were styled by Devki Bhatt, who was assisted by Krutika Sharma. The hairstyling and make-up were done by Nikhar Jivani who was assisted by Niveditha Nayak and Abhilasha Kulkarni. The film was shot at Sofitel Mumbai BKC and produced by Anupama Malhotra and directed by Ravi Shankar, who was assisted by Pranjal Asha, with Vikas Vasudevan as the Director of Photography and edited by Akshay Mehta.
One of the highlights was also the launch of a very interesting and innovative Instagram filter that will encourage audience members to go leather free when choosing fashion for the coming season.
Must Watch:- WATCH: MILIND SOMAN DOES PUSH-UPS WITH HIS WIFE ANKITA ON HIS BACK.