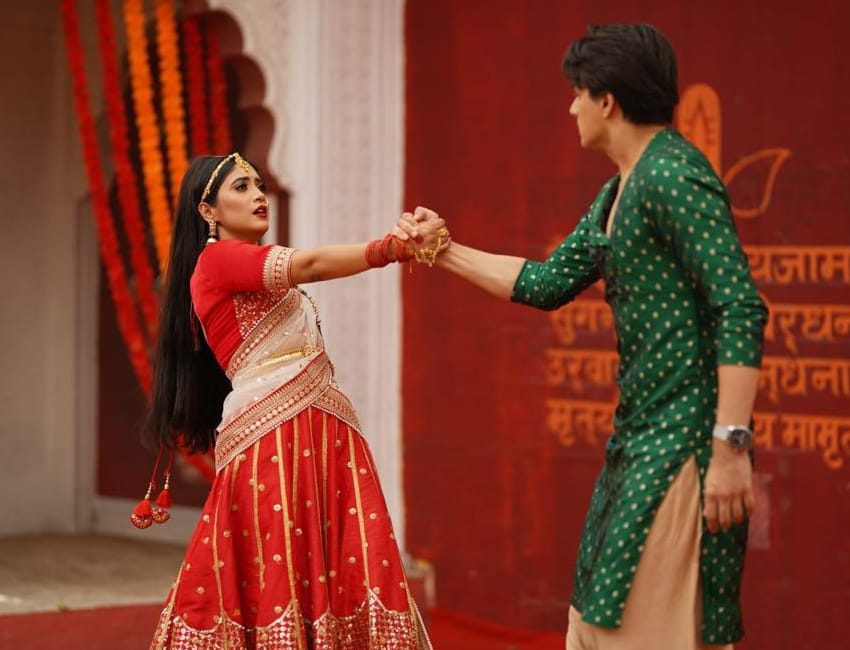 Kartik's emotional hug to Sirat during the Mahashivratri puja created a huge ruckus in her life. Mukesh along with a few other men and women of their area wrote some offensive words for Sirat on her house with black paint and even started a protest against her.
They demanded Sirat to leave their locality immediately as what happened during the Mahashivratri puja and Kartik living in her house is leaving a bad impact on their kids. Kartik takes a stand for Sirat and tells them that she has not done anything wrong, but they won't listen. Since Mukesh wants to acquire Mawdi's house, he made this plan so that Mawdi and Sirat leave the house on their own.
Also Read :- SHIVANGI JOSHI ENTERS 'YEH RISHTA KYA KEHLATA HAI' AS SIRAT
Though Sirat doesn't want to leave, Kartik makes her understand that some battles are not worth fighting for. Kartik convinces her to come to Udaipur with him and his family, but is scared of Manish's reaction to this.
Once they reach home in the morning, they find Manish standing at the main door. He is shocked to see Mawdi and Sirat there and said that they can't live in the house with them.
Not To Miss :-KARISHMA TANNA IS SWEATING HERSELF HARD TO KEEP UP WITH HER FITNESS….!!!
Kartik and dadi are able to convince Manish who asks them to let Sirat stay in the outhouse. Meanwhile he also tells Riya that he has accepted her as Kartik's life partner and wants her to get married to him.
What will happen next? Will Kartik be ready to get married to Riya? To know what happens next keep watching "Yeh Rishta Kya Kehlata Hai".
Produced under Rajan Shahi's banner Director's Kut Productions, "Yeh Rishta Kya Kehlata Hai" features Shivangi Joshi and Mohsin Khan in lead roles. It airs on Star Plus.
Must Watch :-OFFSET MASTI WITH SHIVANGI JOSHI AND ASHITA DHAWAN…..!! | SHIVANGI JOSHI | |ASHITA DHAWAN |