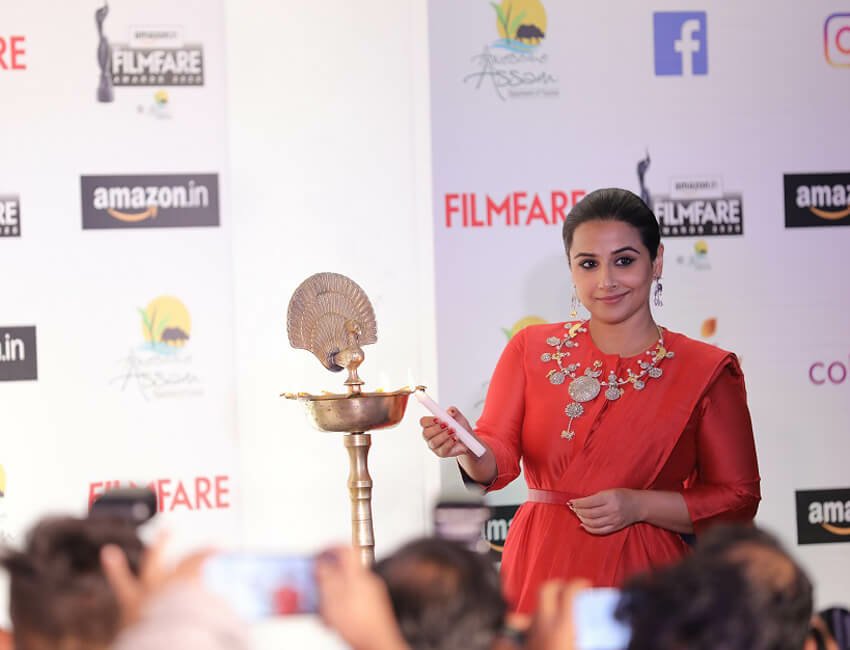 The iconic Filmfare awards are back yet again to celebrate the finest of Bollywood with its 65th Amazon Filmfare Awards 2020. With a legacy lasting more than six decades, the illustrious awards were announced by the versatile and stunning Vidya Balan along with Mr. Deepak Lamba — CEO of Worldwide Media, Mr. Jitesh Pillaai —Editor of Filmfare and Ravi Desai, Director, Mass, and Brand Marketing, Amazon India. This momentous occasion also marks a new milestone for 'The Black Lady' as the awards, for the first time in their history will be held outside Mumbai and will instead bring the incredible talent of the Indian film industry to the state of Assam.
The ceremony commenced with all the luminaries lighting a lamp to mark this new and magnificent journey. The glamorous extravaganza is slated to be held on 15th February 2020 at the Indira Gandhi Athletic Stadium, Sarusajai, Guwahati.
Staying ahead of the curve, Filmfare will harness the massive global reach of social media. For the first time, millions of Bollywood fans all over the world can not only witness the awards simulcast on Facebook but also engage with the best of Filmfare Awards content through the year – From magical moments to stellar speeches and mesmerising performances. Truly embracing the digital way, for the first time the awards will be simulcasted on @Filmfare on Facebook and Instagram, allowing millions of Bollywood fans across the world to witness the country's most-glamourous property in real-time. The Filmfare Awards for the first time ever be telecasted 24 hours after the event on Colors on 16th February at 9 PM and consecutively on Colors Cineplex. Another inclusion to this list is Awesome Assam who has been roped in as the official Destination partner.
The gala evening will once again witness the biggest names in Bollywood in attendance be lauded for their dedication and performances. The dynamic duo of the sassy Karan Johar and the charming Vicky Kaushal will host the night and look to leave the audience in splits with their camaraderie, timely banter and funny anecdotes. Ranveer Singh, Ranbir Kapoor, Alia Bhatt, Varun Dhawan, and many more glitteratis will light up the stage again this year with their electrifying performances.
Mr. Deepak Lamba – CEO, Worldwide Media said, "It is with utmost pride that we announce a new milestone in the journey of 65-year-old legacy of Filmfare Awards. Hosting the awards outside Mumbai for the very first time is not merely a change of location for us but a new avenue to explore a slew of opportunities and collaborations with like-minded partners. Synergizing, banking and stitching together their potential, we aim to make this milestone an exhilarating experience for the audience."
Speaking at the press conference the power star of Bollywood, Vidya Balan said, "It indeed is a landmark moment for each and every one of us that the Filmfare Awards will be held outside Mumbai for the very first time in its history. We're breaking tradition and stepping into a beautiful and unexplored part of the country. I love Assam as there is so much to take a look at as well as regale in the celebrations set to take place there. I am sure it will be an event that would do great for everyone and be remembered for a very long time. Growing up, I was so fascinated and mesmerized by Filmfare Awards that I used to adore them to the point where I wouldn't miss it for the world. The one time that I did leave me devastated. This year, the Awards, which will see the biggest stars of the industry, perform in the heart of Assam offers viewers across the world the chance to watch it live. With the event getting bigger and better this year, the film industry is going to put on a show that will only further the legacy of the Filmfare Awards."
Speaking on their first-ever association with Filmfare, Ravi Desai, Director, Mass and Brand Marketing, Amazon India said "At Amazon.in, we are constantly looking for relevant ways to deepen our connection with our customers. We are delighted to be the title sponsor of the 65th edition of Filmfare Awards. Associating with Filmfare Awards is the perfect way to bring alive the connection between entertainment and fashion, helping us strengthen our position as a leader in online fashion and beauty. We look forward to celebrating this association with Filmfare, through moments big and small, making har pal fashionable."
Shri Chandan Brahma, Honourable Minister of Tourism, Welfare of Plain Tribes and Backward classes, Assam, who couldn't grace the occasion with his presence, addressed the meet with a special message, "It's a proud moment for my state to host the iconic 'Black Lady' along with Bollywood celebrities for the very first time. This partnership of Assam Tourism with the Times Group shall promote Assam Tourism to a worldwide audience of over a billion patrons. The 65th Amazon Filmfare Awards 2020, one of India's most prestigious events, shall position Guwahati as an ideal destination for such large-scale events and it will definitely have a great impact on the tourism industry of the region. I welcome you all to this mega event and assure our wholehearted support to make this event a grand success."
Jitesh Pillaai, Editor, Filmfare said, "Such is the grandeur of the Filmfare Awards that each edition gives us a new reason to celebrate. The upcoming 65th Amazon Filmfare Awards 2020 will script a new chapter as we set foot in the heart of Assam. Starting off with the medium of print, we have indeed come a long way in our 65-year-old history and have become platform agnostic leading to us embracing new-age technology that has expanded our reach. We have channelised digital platforms, through partnerships, that have seen us expand our reach to garner unprecedented viewership figures. Offering our viewers the very best of entertainment in a night where the biggest names of the industry put on a grand spectacle and are lauded for their commendable acting prowess, we are once again going to put on a show that will only further our legacy."
Nina Elavia Jaipuria, Head, Hindi Mass Entertainment and Kids TV Network, Viacom18 said, "We are delighted to welcome back 'The Black Lady' to the COLORS family for the third consecutive year. The past year has been exceptional for Indian Cinema and with Filmfare, viewers will witness the biggest of Bollywood stars coming together to celebrate the incredible talent as well acknowledge the evolution of Bollywood. Filmfare has recognized and celebrated Indian cinema for 64 years now, and it's an honour to bring alive this experience for millions of COLORS and COLORS Cineplex viewers across the world."
Speaking about 65th Amazon Filmfare Awards 2020 partnering exclusively with Facebook and Instagram, Manish Chopra, Director and Head of Partnerships, Facebook India said, "Social media is revolutionizing the way audiences discover, consume and share entertainment content. We have seen people form some of the most vibrant global communities around their favorite movies and stars on Facebook and Instagram, and are excited to partner with Filmfare, and bring them exclusive and engaging videos, photos and more."