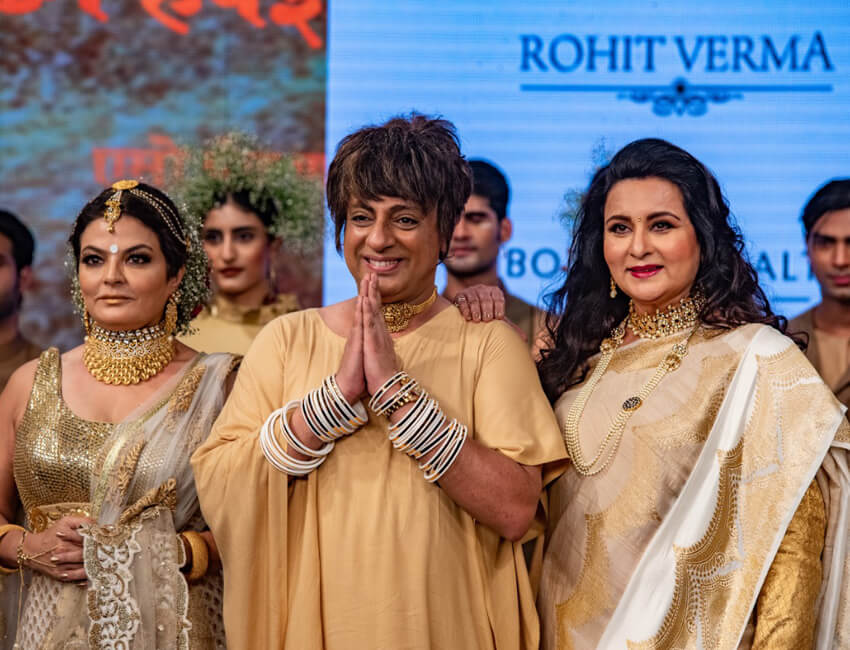 Celebrities like Nishant Singh Malkani, Poonam Dhillon, Sheeba, Deepshikha Nagpal and many more set the stage on fire in his beautiful collection
The name Rohit Verma is synonymous with all things fantastical, couture and grand – without compromising on the practicality. The designer presented his latest collection in Mumbai at the Bombay Times Fashion Week.
Also Watch:- ROHIT VERMA'S LATEST COLLECTION IS EVERY FASHIONISTA'S DREAM😍
VRIDDH a celebration of life, feeling of accomplishment and a life well lived. The plethora of human experiences is brought under one fold VRIDDH. It is not the end of life but myriad of life circumstances depicted at one go. It symbolises the epitome of a fulfilled life, time to relax and enjoy the shade and fruits of the tree nurtured by hard work and dedication of youth . VRIDDH as the collection is a peek through a pigeon hole of the expanse and dynamic nature of a human life. Old age is not the end of things as speaculated or undermined not worth investing on in fact, it is that golden period where the young can benefit and draw all that they can benefit from in the challenges of years ahead. Let's joyously celebrate every moment that we can with our own VRIDDH and make them feel special, needed and cared for every passing moment. Let's imbibe the zeal and vigour with which they have lived so far. It is not all about black and grey it is all about pumping the colours into their lives weaving love, harmony and dedication to their remaining years of a fulfilled life. Rohit Verma gets you the collection celebrated by the VRIDDH and symbolises the eternity of life.
Talking about the collection, Rohit Verma says "Support local. I used a lot of luxurious Indian fabrics, color, and texture and handicraft designs in my latest collection. The collection is regal, couture, fresh & out of the box"