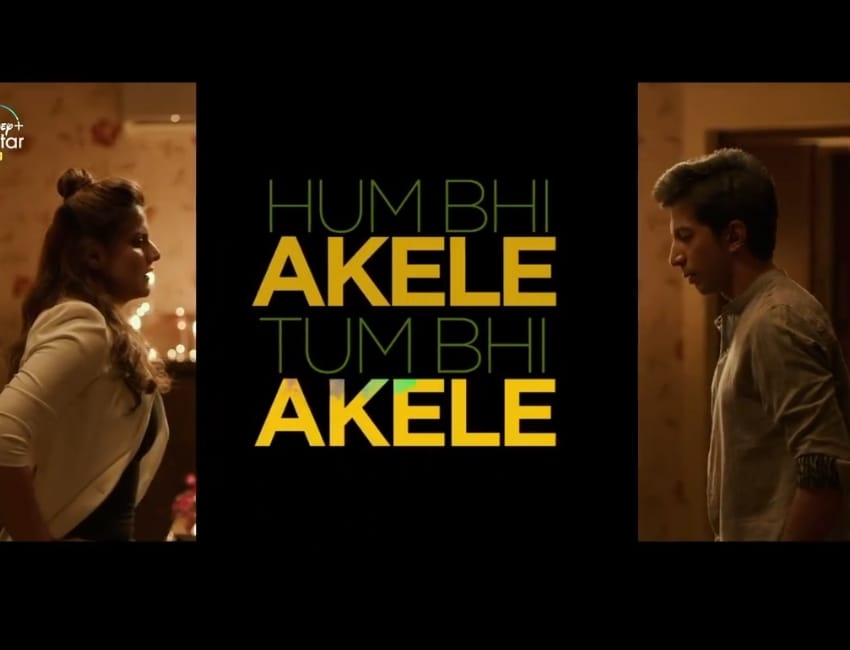 ~ Actor Zareen Khan won the Best Actor-Hindi Films award at the Rajasthan International Film Festival, for her performance in Hum Bhi Akele, Tum Bhi Akele, releasing this 9th May only on Disney+ Hotstar VIP ~
Also Read :- 'YEH RISHTA KYA KEHLATA HAI': THE GOENKAS PLAN A SPECIAL GET-TOGETHER FOR KAIRAV, BUT IT DOESN'T END WELL.
After collecting accolades around the world, Mansi and Veer's heart-warming tale about embracing love, life and friendship in Hum Bhi Akele, Tum Bhi Akele is set to arrive on Disney+ Hotstar VIP. Actors Zareen Khan and Anshuman Jha portray the role of Mansi and Veer – two strangers and proud members of the LGBT+ community; who have more in common than they realise and chance upon each other at a bar while trying to escape their respective realities. The duo soon embark on a road trip that turns out to be a journey of a lifetime; as they drive from Delhi to Mcleodganj, Veer and Mansi discover that love is truly beyond gender.
Speaking about why the film Hum Bhi Akele, Tum Bhi Akele is special to her, actor Zareen Khan said, "Hum Bhi Akele, Tum Bhi Akele is a refreshing and unconventional movie with a feel-good storyline and two relatable lead characters, who are polar opposites yet similar in many ways. But above all, the movie has a compelling message about love beyond gender, which really moved me, and was the main reason why I chose this project. Mansi struck me as a full-of-life, adventurous and impulsive character who belongs to the LGBTQ+ community and has known that she loves girls from a very young age. Portraying her character and telling her story has been a very special experience that I hold very close to my heart. The response and recognition that the film and character have received so far has been overwhelming. I hope that Mansi, and the film's story resonates with more audiences countrywide, and that the message of celebrating love is delivered to as many people as possible."
Not To Miss :-  DISHA PARMAR SLAYING IN AN ELEGANT INDIAN ATTIRE ..!
Hum Bhi Akele, Tum Bhi Akele created big noise globally as it won over several international film critics and enthusiasts, and clinched the Best Film-Audience Choice award at the HBO South Asian International Film Festival, New York. Winning the "Jury Award Best Actor" (Anshuman Jha), Best Actor-Hindi Films (Zareen Khan) & Best Director (Harish Vyas) awards at the 2020 Rajasthan International Film Festival, Hum Bhi Akele, Tum Bhi Akele was also the centrepiece film at the IFFM Melbourne 2020 and was the Closing Night Gala Film of Kashish 2020, Asia's biggest LGBTQ film festival. Written and directed by Harish Vyas and produced by First Ray Films, the film addresses homosexuality, friendship and love through its lead characters and their humane journey. Hum Bhi Akele, Tum Bhi Akele releases this 9th May 2021 exclusively for subscribers of Disney+ Hotstar VIP and Disney+ Hotstar Premium.
~ Discover the true meaning of love in Hum Bhi Akele, Tum Bhi Akele, set to launch on 9th May 2021 exclusively for subscribers of Disney+ Hotstar VIP and Disney+ Hotstar Premium ~
Must Watch:- CHECK OUT THE HILARIOUS VIDEO OF ZAREEN KHAN