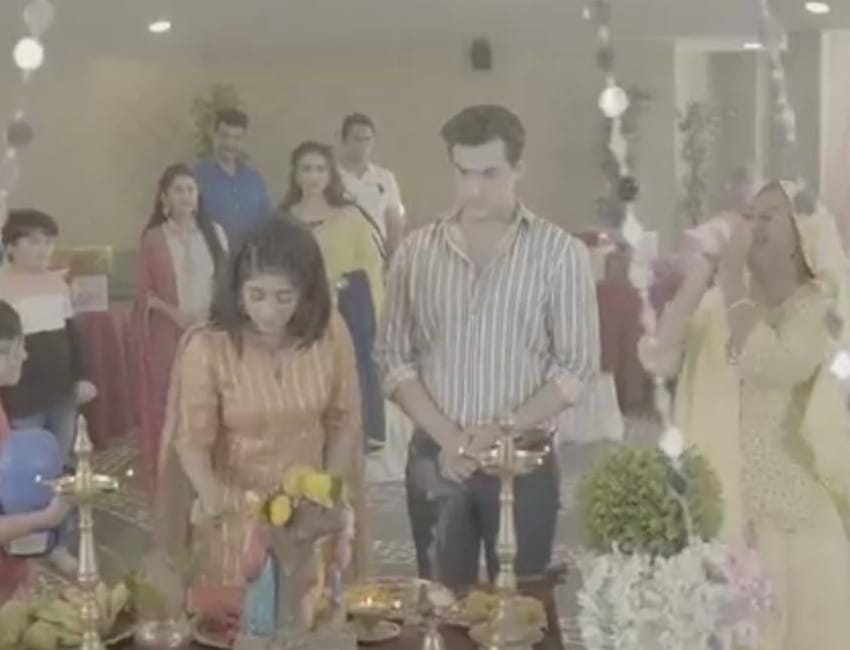 After the Gangaur festival, the Goenka family starts prepping up for Kartik and Sirat's engagement. They plan to have it at a resort and the whole family leaves for that.
Everyone is in a happy mood, but Sirat is quite upset as she won't be able to practice there, but Kartik tries to lift up her mood and tells her that he will help her practice there too. Sirat gets quite excited, and they both fall into the pool. Kairav was already there and it ends up becoming a happy moment for them.
Also Read:- 'YEH RISHTA KYA KEHLATA HAI': KARTIK DECIDES TO BRING SIRAT HOME, BUT WILL MANISH BUDGE ON HIS DECISION
Meanwhile, the elders organise a small puja to offer their prayers for the wedding to God. Then Kartik along with Dadi and Sirat leave for their engagement shopping. While trying the outfits, Sirat remembers the time she was going to get married to Ranveer and was happily dancing around. Seeing a heartbroken Sirat, Kartik consoles her and tells to forget the painful past and look forward to the future.
Not To Miss:- HINA KHAN EXPRESSIONS WITH JUST HER EYES.30 SECONDS OF ACTING CHALLENGE.
Will the engagement happen? What will happen when Sirat and Ranveer will come face to face? To know what happens next keep watching "Yeh Rishta Kya Kehlata Hai".
"Yeh Rishta Kya Kehlata Hai" is produced under Shahi's banner Director's Kut Productions and airs on Star Plus. It features Shivangi Joshi, Mohsin Khan, Swati Chitnis, Sachin Tyagi, Niyati Joshi, Harsha Kandeparkar, Ali Hassan, Shilpa Raizada, Niyati Joshi, Hrishikesh Pandey, Ashita Dhawan, Priyamvada Kant and Karan Kundrra.
Must Watch:- SHIVANGI JOSHI FITNESS SECRET | BOXING | YEH RISHTA KYA KEHLATA HAI | NAIRA | KARTIK | SIRAT