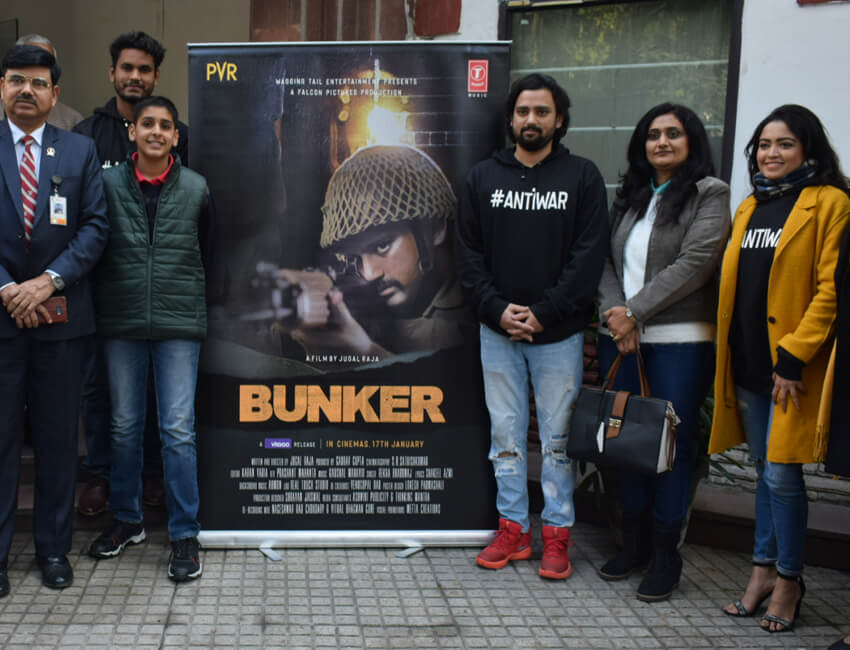 On the occasion of Army Day in India, a special screening of the movie Bunker was organized at Films Division Delhi, for personnel from the army. The special screening was attended by Brigadier R.R Singh and his family, along with 30 soldiers from ADGTA.
Brig. R R Singh shared, "The movie Bunker has captured the soldier's feelings and what thoughts play on their minds perfectly." One soldier opined, "It's a good thing that the moviemakers have shown the family as a heroine in the film, which is the case in reality". The soon to be released and India's first Anti-War movie Bunker is aimed to bring the stories of million soldiers to the masses.
Director Jugal Raja's Bunker tells one such story of Lieutenant Vikram Singh (Played by actor Abhijeet Singh) as a lone survivor with a fatal injury in a secret Bunker at the LOC in Poonch, Jammu, which has been hit by a mortar shell during a ceasefire violation. The movie is all set to release on 17th Jan 2020 in a theater near you, come and support the armed forces.
Writer-Director Jugal Raja shared, "Today was the best day of our lives as the soldiers for whom we have made the film, saw it with us and appreciated it very much. Hearing from them, that we could properly emote their untold feelings is the biggest success we could achieve for BUNKER".
Lead Actor Abhijeet Singh shared, "I am very excited about today's special screening with the soldiers from the Indian Army. The whole experience of sharing the theater with the soldiers and hearing their appreciation for us has left me speechless and was surreal". He further added, "I underwent a strict regime while prepping for the movie where I had prosthetics on my face for nearly 18-20 hours a day. The entire movie experience has been a difficult & transitional journey for me. The character of Vikram Singh is like every other soldier whom one can relate, making it human and organic".
National Award-Winning singer Rekha Bhardwaj has also lent her voice for a heartfelt rendition, a peace anthem "Lautke Ghar Jaana Hai", which is an integral part of the narrative.