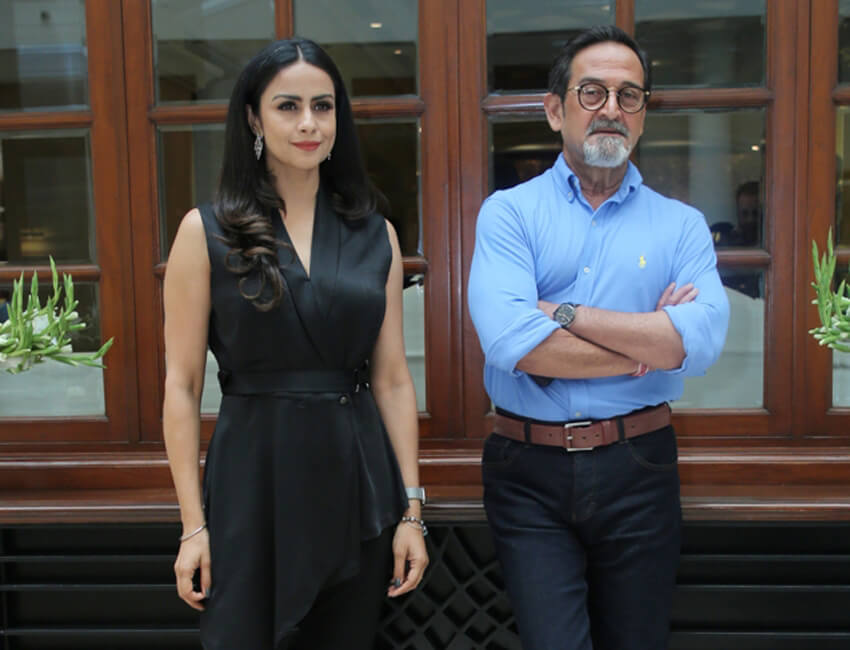 We have always heard about love stories ending with a happily forever after. But is that all love is? A happy emotion is meant to be unconditional, unbreakable and unquestionable. With MX Original Series – Pawan and Pooja, MX Player brings you complicated love stories of 3 couples, ALL named Pawan and Pooja in their 60s, 40s, and 20s – who show us the grey shades of love.
The cast of the series including Mahesh Manjrekar, Gul Panag & Natasha Bharadwaj is visiting Delhi today to speak about the show and their take on love in this day and age.
Helmed by creative minds like Siddharth P Malhotra, Shaad Ali and Ajay Bhuyan–  this 10-episodic series sees an ensemble cast of Mahesh Manjrekar – Deepti Naval who pay the role of Pawan & Pooja Kalra in their 60's, Sharman Joshi – Gul Panag who play the role of Pawan & Pooja Mehra in their 40's and Taaruk Raina – Natasha Bharadwaj who play the role of Pawan Srivastav & Pooja Maheshwari in the 20's.
Bound by trust and now in their 60's – Pawan and Pooja Kalra (Mahesh Manjrekar and Deepti Naval) decide to make a Regret List and mark off all that they couldn't in their young age. But little did they know that this path would lead them to confront a dark secret from the past, which unsettles and questions the very foundation of their love and marriage.
Speaking about the same, Mahesh Manjrekar said, "What drew me to the character Pawan Kalra is his zest for life and his honesty. This drama series brings alive the complexities in relationships across three couples of different generations and I really liked its narrative."
Pawan and Pooja Mehra (played by Sharman Joshi and Gul Panag) are battling a stagnant marriage in their 40's. This duo has loved none other but each other, however – that love is no longer the same because there's just no spark in their relationship. Elaborating on the same, Gul Panag shared, "Our story begins where other stories end and this series brings to the fore emotions, that aren't always openly discussed. More so, I am happy to be here today – Delhi has always showered me with love and affection, it's like my second home and I am sure that viewers in this city will be able to relate to our series."
In their 20s, Pawan Srivastav (Taaruk Raina) and Pooja Maheshwari (Natasha Bharadwaj) love their online friends and the virtual world above themselves, they've forgotten what it's like to feel in the real world.
Natasha Bharadwaj added saying, "My character is just like any other girl out there with a social media obsession. It's a character that lets the digital world dominate the real world. I've had a great time shooting with the entire team. I hope that the viewers in Delhi, too, will appreciate the show and be able to empathise with Pawan and Pooja."