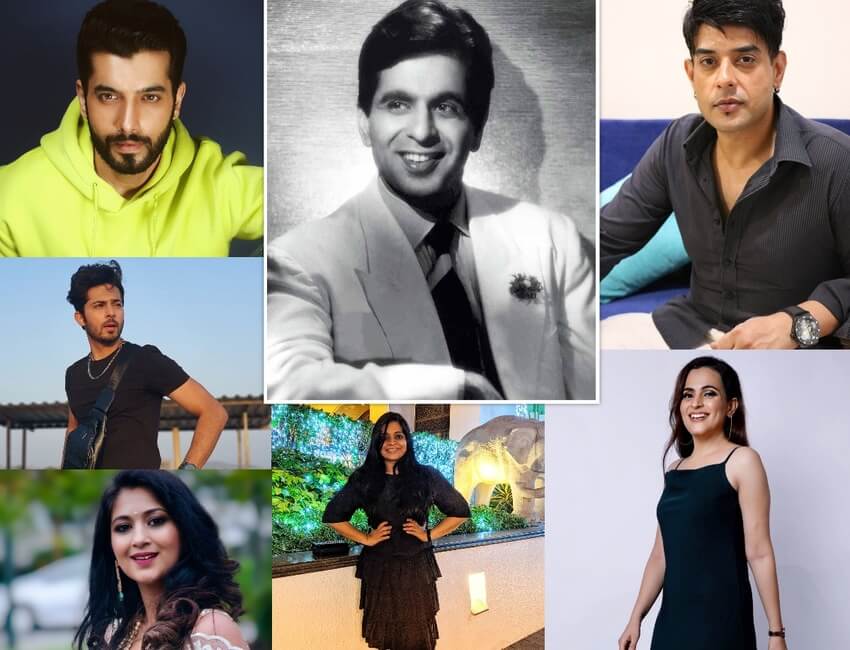 Dilip Kumar, the doyen of Hindi Cinema, breathed his last on Wednesday. He was 98. The legendary actor is survived by his wife, actor Saira Banu. The news of his demise has left the entire film fraternity, his friends and fans across the globe, shocked, sad and in mourning. Celebrities offer their condolences to his family, talk about his contribution to Hindi cinema and what they have learnt from him. They also tell us about their favourite film of the artist, whose expression, signature smile and the way he put life into his characters on screen continues to impress and inspire many.
Hasan Zaidi – It's the saddest news ever, Dilip Saab, everybody says he was an institution but if there's somebody that I have really followed, really admired and really wished to have met or worked with, it is Dilip Saab and all the cinema genres and all the industry all over the world, it was one person that I thought the complete man in every sense, complete Artist, human being in every sense, somebody who embodied everything, what's is with being a good human being a man and actor, the amount of education he had the way, he equipped himself, the way he understood cinema, politics and the responsibility as an artist, I think nobody else could. And I have read books about him, I have just finished reading his book, in fact, just a week back I watched all his films, This is just the saddest day ever. If you ask me my favourite Film of his is Ram Aur Shyam, it had everything in it, it had all emotions in it, but there is no film that you can pick up of Dilip Kumar Saab and say that there's something missing in it.
Yeah Duniya Aaj se, Phir mehroom ho gai..
Aap thhey, to, Yeah Duniya, behtar thhi..
Na hua hai, na ho payega Koi shaks aapsa,
Na shaqsiyat Koi, na fankaar aapsa.
ALSO READ: Neena Gupta to play Amitabh Bachchan's wife in 'Goodbye'
Anjali Phougat – This news is heartbreaking. May his soul rest in peace. Dilip Kumar ji was a true legend and the film industry lost a gem today. My favourite of his films is Mughal-E-Azam. He was an inspiration to many and his acting skills were unmatched. Dilip Kumar Ji was a veritable legend of the silver screen. My sincerest condolences to his family and fans. We will never be able to fill this void. He will live in our hearts forever and we will always cherish his films. He has been involved with a number of charitable and social initiatives and taught us to give back to the community in whatever way possible. He was such an inspiration to millions.
Sagar Parekh – Waking up to the news of Dilip Kumar's demise is definitely heartbreaking. It is a huge loss for our film industry. He was an actor who never failed to connect with his audience with every character he performed on screen. Be it Andaz, Deedar, Devdas or any other film, he mesmerized us with his performance in all of them. Indians love sad stories and Dilip Kumar Ji was known as the ultimate tragedy king. My favourite film by Dilip Kumar is Andaz. His character's name in the movie too was Dilip. The characters he played were intricate, self-conscious, powerful and rebellious on their own terms. I loved everything about him and have learnt so much.
ALSO WATCH: WATCH HOW SRK GAVE HIS RESPECT TO DILIP KUMAR!
Priyanka Lalwani – I am disheartened to hear about the demise of Dilip Kumar sir. He is one of the legends of Hindi cinema. A trendsetter in terms of acting, style, he has and will continue to inspire generations of actors. I remember how much I enjoyed watching his films Mughal-e-Azam, Saudagar, Naya Daur and many others. My grandfather has a vast collection of all the film songs of Dilip Kumar and he still plays it on his system all the time. When I spoke to my grandfather today, he was heartbroken to hear the news but we ended up discussing Dilip ji's films and the music we used to listen to. He told me about his favourite films being Ram Aur Shyam and Azad. I Hope Dilip sir's journey has been fulfilling and a beautiful one. Strength and heartfelt condolences to his family and friends.
Nivedita Basu – Dilip Kumar was an icon for the entire Bollywood community. My two favourite films of his are Karma and Saudagar. I did not watch too many films as a child though. I think he lived his life happily with his wife Saira Banu. I remember seeing him smiling in all the pictures, during his interactions with the media. To wear a smile even in your toughest time is something which I think we should learn from him. He loved his craft and his passion got translated into his performances. He was a method actor. I very clearly remember Saudagar because it was one of the cult films that I watched as a kid. The news of his demise is shocking. He is and will always be loved and looked up to. His art was pure and continues to inspire actors of all generations.
Sharad Malhotra – Dilip Kumar The king of Indian cinema left us today morning leaving behind the legacy that will remain forever in our lives and in our hearts, I have seen most of his Films Mughal-E-Azam, Saudagar, Karma, Mashaal are my favourite films by seeing his films I have learnt a lot as an actor, he got an amazing life partner as Saira Banu who stood by him through thick and thin.
WATCH: Late Dilip Kumar Ji's wife, Saira Banu taking care of him