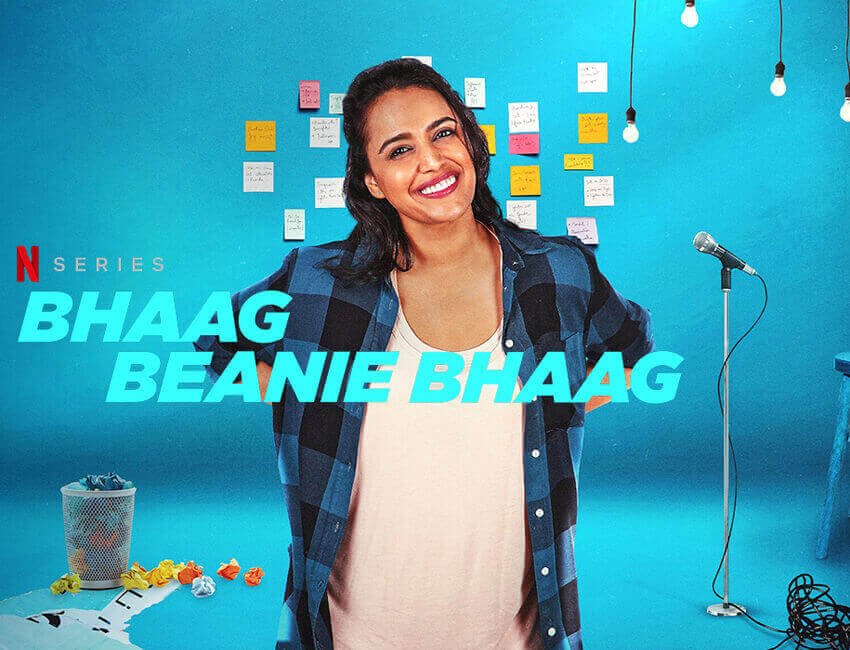 Concerned parents, a clingy boyfriend, a monotonous job, and an unconventional, unsaid dream — Beanie's life is chaotic, to put it mildly! Netflix today released the trailer of its upcoming series, Bhaag Beanie Bhaag, which follows the journey of Beanie Bhatnagar, a 20-something girl, who is breaking stereotypes and running after her ambition of being a stand-up comic.
Directed by Debbie Rao, Abi Varghese, and Ishaan Nair, this romantic-comedy series releases on Netflix on December 4, 2020.
Also Watch:- Are you excited to play Ludo on-screen? Get ready Ludo directed by Anurag Basu is premiering on Netflix
Bhaag Beanie Bhaag is about Beanie (played by Swara Bhasker) and her quest to find her own voice in the stand-up space, navigating love, life and her conventional but loving parents. Instagram sensation Dolly Singh marks her acting debut as Kapi, Beanie's bestie, and the Indian-American actor and comedian Ravi Patel play the role of ..well Ravi Patel, a budding comic and Beanie's new-found friend, and confidant, both chasing a common passion. The hilarious-by-default Varun Thakur embraces the role of Arun, Beanie's clingy but loving boyfriend, along with the evergreen Mona Ambegaonkar and Girish Kulkarni, stepping into the shoes of her parents.
Also Read- Kaahan Ho Tum, Prateek Kuhad asks in his next song celebrating College Romance The popular singer-songwriter lends his voice to Netflix's Mismatched
What happens when Beanie flees her job and engagement in hope of pursuing a career in stand-up comedy? Find out on December 4, 2020 – only on Netflix
Also Watch:- Bhaag Beanie Bhaag | Official Trailer | Swara Bhasker, Dolly Singh, Varun Thakur | Netflix India