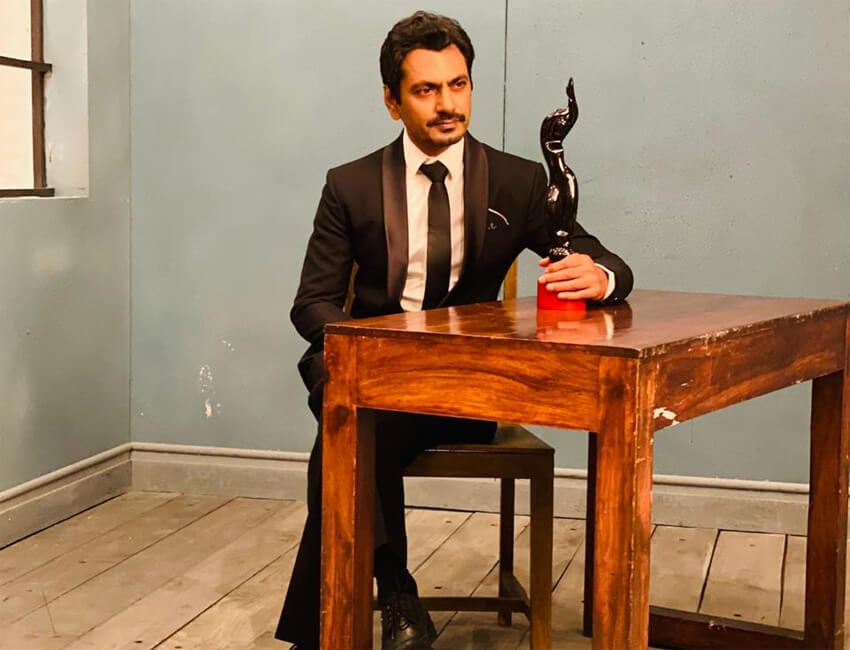 Nawazuddin Siddiqui has established himself as one of the most formidable names in the entertainment industry, rising to the top with back-to-back stellar performances. This year, for his stupendous role and noteworthy performance in Raat Akeli Hai, he was felicitated with the title of 'Best Actor' by a leading platform.
Adding another feather to his cap, Nawazuddin won the prestigious black lady for his role of 'Jatil Yadav', a police officer portraying complex emotions in Raat Akeli Hai. The film streamed on a popular OTT platform earlier this year. The talented actor has always impressed us with his performances in the past and 'Raat Akeli Hai' was definitely, the most prominent one in this year. Nawazuddin's role in this film had garnered a lot of love from the audience and critics, clearly highlighting his impeccable performance.
Also Read:- Nawazuddin, the versatile actor, recalls his stellar performances as 2020 wraps up!
Nawazuddin said, "It's an honour for me to have received the prestigious Black Lady for Raat Akeli Hai. 2020 was a challenging year for most of us but I'm glad that this year with Raat Akeli Hai and Serious Men I could connect with my audiences. Good content indeed has been a support system for everyone during this pandemic. I'm grateful that all the hard work is being acknowledged and it is a huge recognition for the actors, creators, writers and everyone else who are involved. It's a motivation to do better and achieve the other goals that I have for next year."
Before the year wraps up, Nawazuddin Siddiqui bags another accolade; wins the Best Actor Award!
Also Watch:- Congratulations to all the winners of #flyxfilmfareottawards❤️
As an artist, he has firmly rooted his place in the OTT space with incredible executions in cult series as well as films. He has won numerous accolades and this particular victory is a significant one as 2020 is on the verge of closure. Earlier, his renditions in Sacred Games, and Serious Men also scored a lot of praise for his spectacular display in the series and film respectively. He has always been an actor who can get into the skin of a character seamlessly and this quality has helped him to become a versatile performer and enhance his craft with every project.
We congratulate Nawazuddin Siddiqui for his phenomenal achievement! On the work front, Nawazuddin will be next seen in Bole Chudiyan, Sangeen, and Jogira Sara Ra Ra.
Also Watch:- Ranveer Singh completed 10 years in Bollywood |