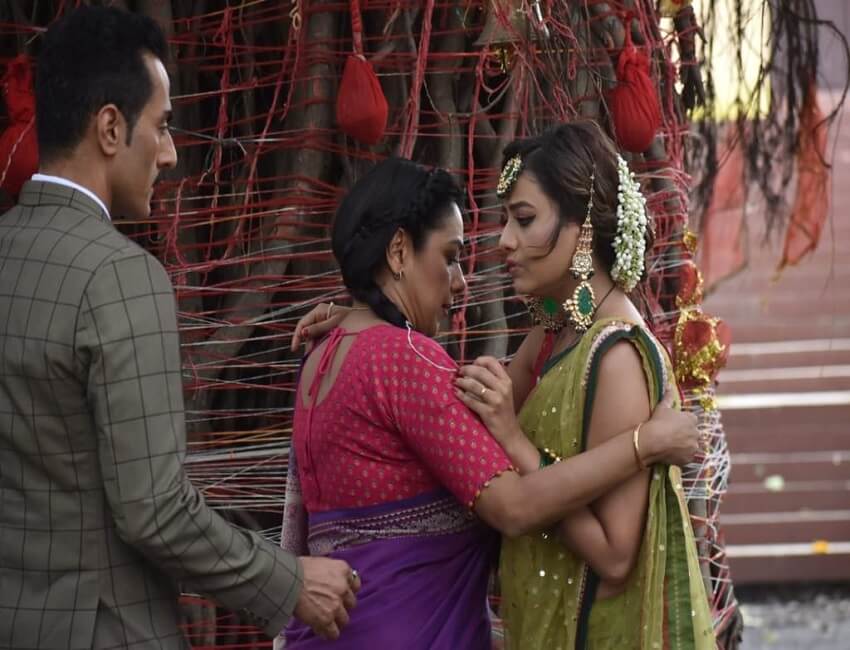 Kavya in Rajan and Deepa Shahi's "Anupamaa" has gone to the next level of insulting and demeaning Anupamaa. She has left no stone unturned in taunting Anupamaa how she is a newly married woman, how she is the daughter-in-law of the house, and she has all the rights over Vanraj.
During the Vat Savitri puja, the woman living in the colony comment Baa about Anupamaa attending the puja. They feel it's not right what they are doing by letting Vanraj's new wife and his ex-wife live under the same roof. But Babuji gives a befitting reply to them and says that Anupamaa is their daughter and she has all the rights to live with them.
ALSO READ: Rupali Ganguly has raised the bar with "Anupamaa": Rajan Shahi
While the ladies are performing the puja, Anupamaa was trying to help Kinjal do it properly but Kavya reacted to it saying that she shouldn't have divorced Vanraj in that case. Later, when Kavya starts to take rounds of the tree, she had a big smirk on her face as though she has made Anupamaa lose some battle. Anyways, but as luck would have it, she was about to fall but Anupamaa saved her.
ALSO SEE: Rupali Ganguly and Sudhanshu Pandey grooving to Aati Kya Khandala. Hit like if you like this TV jodi
In the upcoming episode, we will see that Kavya has hurt her ankle and asks Anupamaa to put the ointment. She then cleverly clicks a photo of her. But Anupamaa was quick to tell her that she must be feeling fine after clicking the pic.
WATCH: Vanraj Prank on Anupama | #Anupamaa |Star Plus

Will Kavya's jealousy and insecurity create differences between her and Vanraj? Will she try to divide and conquer the Shahs? To know what happens next keep watching "Anupamaa".
"Anupamaa" features Rupali Ganguly, Sudhanshu Pandey, Madalsa Sharma, Alpana Buch, Arvind Vaidya, Paras Kalnawat, Aashish Mehrotra, Muskan Bamne, Shekhar Shukla, Nidhi Shah, Anagha Bhosale, and Tassnim Sheikh. Produced by Rajan Shahi and his mother Deepa Shahi under their banner Shahi Productions Pvt Ltd, the show airs on Star Plus.