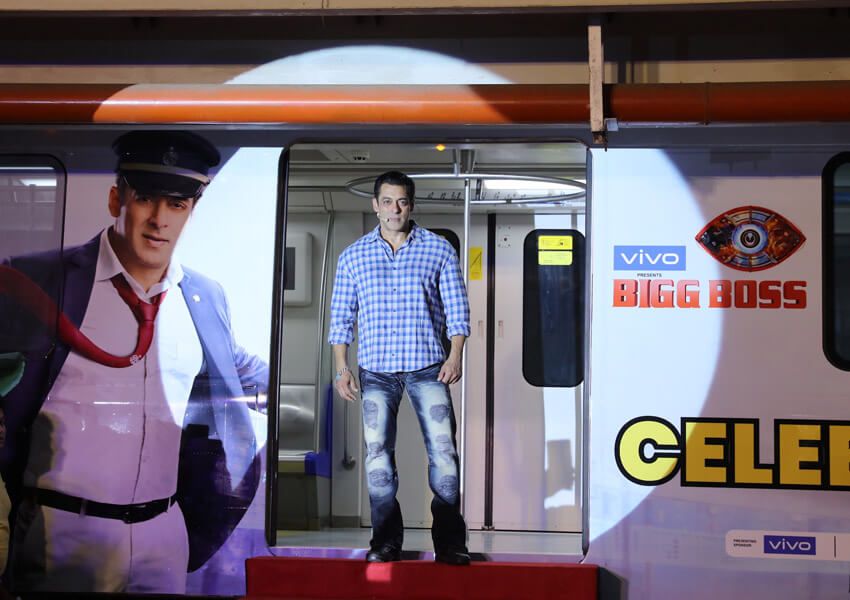 May we have your attention, please! Flagging off another great season with Host Salman Khan, Bigg Boss's Express journey is all set to take the viewers on a ride of a lifetime. But like always won't be that well in the Bigg Boss House! The twist in the tale will be the emergency chain that will put an abrupt halt to the game mid-season albeit the entertainment will continue to ensue. The new season will be a powerplay and will give viewers for the first time the experience of two seasons packed into one.
Jostling emotions and combating tasks will make connections stronger and create survivors who will emerge victoriously. 'Vivo V17 Pro presents Bigg Boss' with an all-celebrity cast will witness a fast track hyperactive season with strategic shifts that will reimagine entertainment like never before. Produced by Endemol Shine India Pvt. Ltd, the spectacular season of Bigg Boss will open on 29th September at 9:00 PM, and thereafter every day at 10.30 pm followed by weekends at 9 pm only on COLORS.
Speaking about the launch of the show, Nina Jaipuria, Head, Hindi Mass Entertainment and Kids TV Network Viacom18said, "Bigg Boss over the years has become a sentiment synonymous to entertainment rather than just a show. From setting a benchmark in disruptive and voyeuristic content to creating the best platform for brand visibility – Bigg Boss has instituted itself as a phenomenon. Staying true to our promise of providing differentiated entertainment, the new season of Bigg Boss will tread beyond the usual and speed up the proceedings by presenting the action of two seasons packed in one. To add to the curveball is our Host, Salman Khan whose association with Bigg Boss for the past 10 years has only added more sheen and charisma to the show. This season we welcome 'vivo' as our presenting sponsor, 'Lays' as a special partner while 'Ching's Chinese', 'PokerStars.in', 'BharatPe' , 'Whirlpool' and 'Helo' as the associate sponsors."
Talking about the alliance, Jerome Chen, CEO, vivo India, said, "At vivo, our focus is to always look for exciting ways to connect with audiences and create a meaningful experience for them. Bigg Boss is the undisputed king in the television reality space that provides dream opportunity for brands to reach out to their target audience in an innovative way. The tremendous reach of COLORS and unique content of the show offers a splendid opportunity to vivo to connect with the audience in the diverse, far-flung areas of the country. We are very excited about our partnership with COLORS for Bigg Boss, and this season will undoubtedly delight the audience with its entertaining content."
Elaborating on the concept of the show, Manisha Sharma, Chief Content Officer, Hindi Mass Entertainment, Viacom18 said, "Bigg Boss is a property that is year-marked in everybody's calendar, whether it's the celebrities who want to participate, the partners who want to associate or the creative thinkers who want to innovate. Every season, we give a new meaning to unpredictability and make the content entertaining as well as cohesive to appeal to all. This season will pick up the pace from the minute the contestants enter inside drawing more traction and raking up multiple debates and discussions."
Excited about the new season, host Salman Khan said, "Bigg Boss to me is like a homecoming. Every year I look forward to another season, meeting newer people and experience a gamut of emotions that makes the show so real and believable. This season is inclined to be in fast-forward mode and I'm fully prepared to jump into the bandwagon. My best wishes to all the contestants who are about to take on this rollercoaster ride."
Talking about the format of the show, Abhishek Rege, CEO, Endemol Shine India said, "Being one of the most popular non-scripted reality shows, we have always given an unconventional spin to Bigg Boss making it more appealing. The franchise has not only grown manifold but has also expanded its footprints in various languages and has been entertaining viewers across the board. This year, we have strived to present a concept that connotes speed and promptness that will enhance the drama and entertainment quotient like never before. We have relocated the set from Lonavala to Mumbai for the first time and have given the house a wondrous vibe. We hope the audience gets hooked on to this speedy journey that they will soon embark on."
COLORS' Bigg Boss is a multiplatform property which will be present across mediums for its audience. This time around, AR Instagram Filter will be introduced in the launch week on the digital front. Through #BB13TedhaTask, audiences will get to perform 5 tedha tasks every day and win a chance to partake in the Bigg Boss festivities.
VOOT will keep the digital viewers attuned to the exclusive content and latest ongoing of the house through its popular properties like 'Unseen Undekha', 'Cutless', 'Bigg Buzz' and new additions like- 'VOOT Night Live- BB Edition'. Also, increasing the interactivity this season will be a host of fun and engaging segments like- 'Video Vichaar', 'Chugli Booth' and 'Pulse meter', where users will get a chance to participate in the content of the show like never before. For the first time, viewers will get to vote on the Voot and MyJio App. Besides the voting feature on MyJio App, there is a host of other interactive activities lined up for the users to enhance engagement including 'sentimeter', 'Jio Luxury Bazaar', an interactive game and 'Bigg Boss League', which will be based on a predict-to-win model. The select lucky winners will even get to visit the Bigg Boss set and see Salman Khan live as a gratification.
On the marketing front, a robust network and non-network plan with a mix of news, movies, music and regional channels along with a high impact OOH are being planned.
As Bigg Boss moves to Mumbai this season, the house will be adorned with many interesting pop art elements and bring color palettes to give it a more youthful feel. With a double dhamakain-store, the Bigg Boss journey is sure to be an entertainment extravaganza.