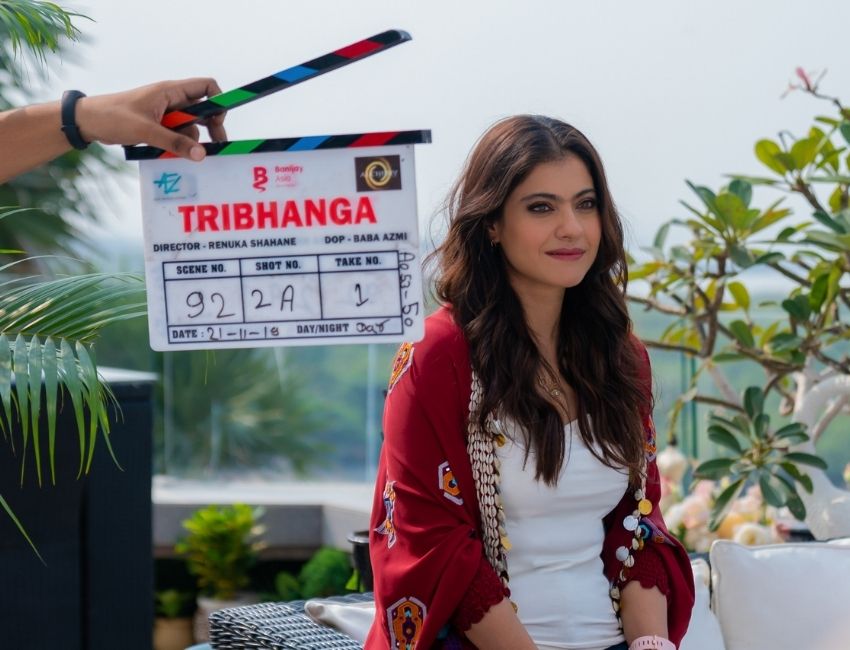 Netflix's Tribhanga : Tedhi Medhi Crazy featuring Kajol, Tanvi Azmi and Mithila Palkar is all set to release on 15th January 2020. The film is an intergenerational drama that races the journey of three women and their unconventional decisions. The film, dominated by women on screen and behind the screen ensured one thing – high adrenaline rush, crazy conversations and some great  working relationships that will be remembered in the years to come. On working with each other, director and writer Renuka Shahane and Kajol speak about their experience on the sets of Tribhanga: Tedhi Medhi Crazy.
Read Also : Amazon Prime Video drops a BTS video from the sets of The Family Man, leaving fans guessing if the dreaded terrorist Moosa is still alive
Watch Also : Nakul Mehta dedicated this poetry to life of a cricketer
Talking about her experience working with Kajol, Renuka Shahane said, "Kajol is a livewire, she keeps the atmosphere on the set alive. I was so glad to see  her involvement while shooting, she made sure that each and every person on set felt comfortable and worked with ease. Working with her was really fun, there were multiple occasions where we were shooting for emotional scenes and before we used to cut, we burst out in laughter as if we hadn't just shot a serious scene. The trust she had in me and the way she has justified the role is beautiful and I consider myself lucky to find someone like her."
Kajol on working with a women dominated set for Netflix's Tribhanga: Tedhi Medhi Crazy said, "There was so much estrogen on Tribhanga  sets that we completely beat the testosterone. We had too much fun on the sets and cracked multiple dirty jokes, if you saw the BTS of this film – you would be in splits! We were so entertained during the shooting that we rolled on the floor laughing – it was a blast altogether. There was this one point where Renuka and I had this huge conversation about men and all of a sudden you could see there was utter silence on the set. We realized that all the men around me had kept quiet and no one was willing to look up and participate in this conversation."
Like the Odissi dance pose that is asymmetrical, yet mesmerising Netflix's Tribhanga: Tedhi Medhi Crazy deals with the lives of the three female characters and their unconventional life choices.
Watch Also : Amrita Arora Enjoying Vacations With A friend In #Goa | Malaika Arora | Arjun Kapoor | Goa Vacation