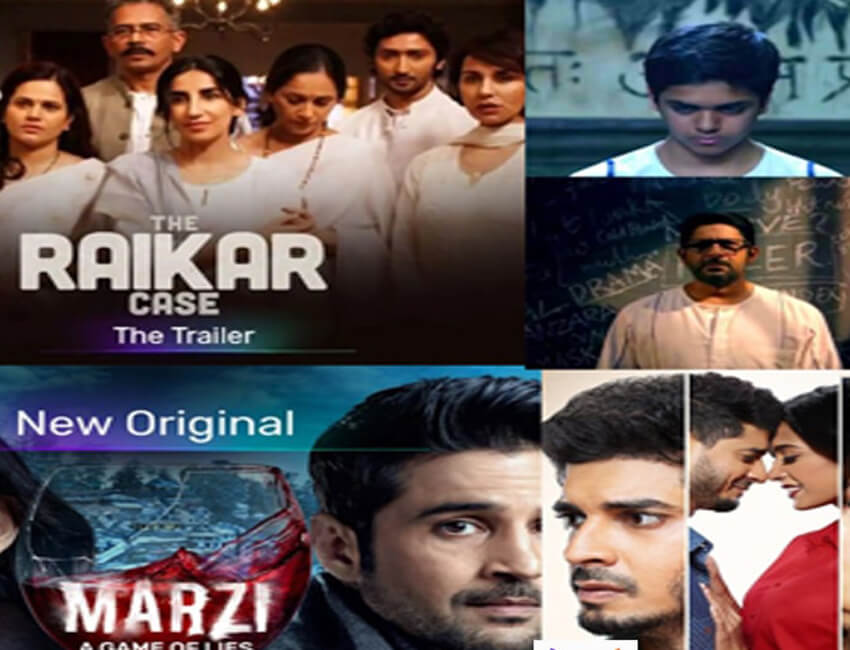 In a market dominated by Originals on digital entertainment platforms, viewers have become increasingly habituated to sampling new & innovative modules of content. With a continuous influx of OTT platforms and variations of content, one such platform that has stood out with its ground-breaking Originals, in less than a year of launch, is Voot Select. From Asur & Illegal to The Gone Game & Crackdown, each Original boasts of a unique concept, starkly different from the other, making each series throughout the year, worth the wait. The success of these shows have prompted the makers and the platform to get them back for a returning season in 2021, much to the viewers delight.
As Voot Select now focuses on introducing some more captivating stories, with newer concepts, let's take a trip down 2020 and revisit the six Originals that stood out and are etched in the minds of the viewers:
1. Asur
This phenomenal thriller has a stellar 8.4/10 rating on IMDb, bringing to audiences a perfect blend of spirituality, practicality and science, Asur takes you on a journey of Indian mythology and forensic science, through an immersive and gripping storyline. With a crisply detailed script, director Oni Sen ensures that each episode is as riveting as the previous one, making Asur an absolute must watch. Packed with a bunch of supremely talented actors, each member of the cast of Asur, breathes life into their respective characters. The show marks the web debut of Arshad Warsi, who gained massive acclaim for leading the brigade with his fantastic portrayal of DJ a.k.a. Dr. Dhananjay Rajput, a forensic expert, along with Barun Sobti, who lends ample support with an intense performance as Nikhil Nair. Validating the brilliance of the hit web series, the remarkable actors have been nominated for Best Actor and Best Actor in a Supporting Role respectively. Ridhi Dogra, Anupriya Goenka and Sharib Hashmi also shine in pivotal roles.
Also Read:- Surprises await as Anupria Goenka reprises her role in Criminal Justice Season 2
2. Marzi : A Game of Lies
With a stunning 7.3/10 rating on IMDb, Marzi details the lives of two distressed people, their distorted versions of the truth, some blurred memories, and contrasting perspectives of the same incident will take the viewers on a edge-of the-seat ride of emotions in this intriguing drama Marzi . What Really Happened That Night? Who Is Spinning The Web Of Lies? Can We Really Support Who Claims To Be The Victim?
Set in the hilly terrains of Shimla, Marzi is a gripping drama that explores a romance gone tragically wrong where both sides seem to have enough to hide and a lot to lose! The story of a night that changes the lives of Sameera Chauhan and Anurag Saraswat forever. Sameera is a smart and dedicated teacher, not long out of a relationship and unsure about getting back to another one. Marzi addresses the vital topic of female empowerment, with Aahana Kumra at the frontlines fighting for the rights of the underrepresented. She bagged a nomination at the Asian Academy Creative Awards for her noteworthy performance in the stirring series.
Also Watch:- Ali Abbas Zafar's Tandav to stream on Amazon Prime from January 2021!
3. The Raikar Case
IMDb rates this crime drama a 7.2/10, making The Raikar Case a is an edge-of-the-seat thriller worth watching. Witness a family deal with love, deceit, and the secrets that wrench us apart. It grapples with the dilemma of 'Will you choose truth over family?', and if trust can ever really be absolute. Secret and lies are exposed when the youngest member of the family commits suicide – leaving behind a trail of unanswered questions and suspects. The story unfolds from Etasha's standpoint as she, along with an eccentric Goan cop, John, tries to solve the case of Tarun's suicide/ murder. A case where every member of the family becomes a suspect, each with a powerful motive to kill! With the illustrious Atul Kulkarni at the center of the mystery, the series is guaranteed to be a rousing rollercoaster throughout!
4. Illegal
With a high rating of 7.4/10 on IMDb, Illegal is a first of its kind legal drama that takes a brave stand – on the state of law today, and how a few mercenary lawyers and legal eagles attempt to take advantage of it. Is the law only as good as the lawyer you are able to hire?
Niharika Pratap Singh, a young, successful, passionate lawyer and a fierce idealist seeks just one thing – justice. Janardhan Jaitley (JJ), the country's number one lawyer & patriarchal owner of a top-end law firm that hires her, can sacrifice manipulate anything for personal ambition. Law is merely a tool for him to get ahead. Akshay Jaitley, JJ's son & a lawyer of repute himself, has an unresolved and complicated history past with Niharika. The series traces Niharika's story as she moves to Delhi and joins JJ's prestigious law firm to take on the highly politicized Meher salaam capital punishment case. As she struggles to fight a battle that seems lost on all fronts, Niharika gets embroiled in a complicated sexual harassment case. Will she keep her moral grounding or will JJ's evil machinations & her emotions for Akshay make her compromise on her idealistic stand? Will justice be delivered, or truth denied?
5. The Gone Game
If the 7.9/10 IMDb rating isn't evidenced enough, The Gone Game made history in the OTT space this year. Was it a virus affliction or a planned murder? A tragedy strikes the Gujral family as their son is declared dead due to the virus, but there is more to it than meets the eye. Voot Select's upcoming new original, The Gone Game, unravels the mystery behind an unfortunate death that takes place during the pandemic-imposed lockdown and overnight changes the life of a family. The show is directed by Nikhil Nagesh Bhat. Backed with a power-packed cast including Sanjay Kapoor, Arjun Mathur, Shriya Pilgaonkar, Shweta Tripathi Sharma, Rukhsar Rehman, Lubna Salim, Indraneil Sengupta, and Dibyendu Bhattacharya amongst others, this edge of the seat thriller will hit the platform this July. The Gone Game was the first of its kind, taking work from home to another level of commitment by innovatively shooting entirely from the confines of the artists' homes, with the help of ingenious sets and limited equipment. With a gripping storyline and an extremely unique format, the show will certainly top the audience binge-watch list.
6. Crackdown
With a solid 7.0/10 rating on IMDb rating, Crackdown is a high octane action drama/espionage series revolving around RAW's special ops team trying to crack through multiple smaller decoys to uncover a larger conspiracy and to prevent a major threat to national security. In the process they find an able ally in a girl whose identity remains a mystery. Starring fan favourites Saqib Saleem and Shriya Pilgaonkar in fundamental roles, this action packed thriller will get your heart racing in no time! This series marks directorial debut of ace director Apoorva Lakhia.