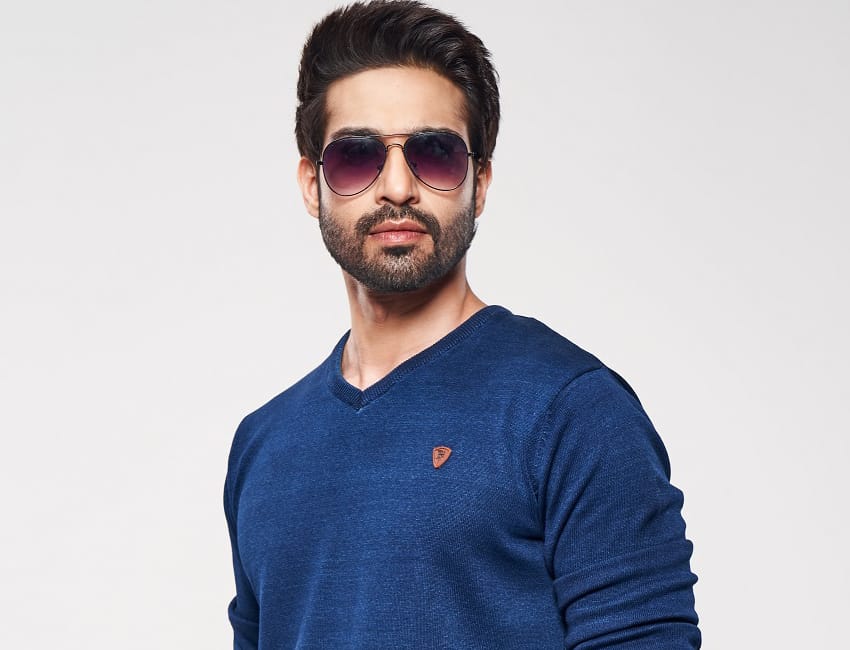 In a candid chat with Vijayendra Kumeria, a proficient entertainer and a much-admired personality popularly
known to be the television industry's finest and most sought-after actor in recent times. Vijayendra is now all
set to embark on a new journey with Star Plus' latest offering 'Aapki Nazron Ne Samjha'. He talks about the
show, his character Darsh and much more…
Please tell us something about your upcoming show on Star Plus?
In simple words, 'Aapki Nazron Ne Samjha' is a love story of two deprived souls who by fate turn into each other's strengths. On one hand is Darsh who is seen facing various challenges in his life as he is visually impaired whereas Nandini (played by Richa Rathore) is seen as a simple yet self-made girl in the show. The crux of the story simply lies in the fact that everyone has the right to love and be loved.
Also Read:- OUTDOOR SHOOT OF RAJAN SHAHI'S MANN KI AWAZZ PRATIGYA 2 IS ROCKING!
What were the new things that you discovered about yourself as an artist while working on this show?
By far, my character of Darsh in this show happens to be one of the most challenging roles I have ever essayed in my acting career. I have discovered and realized that as an actor I perform better while I am challenged towards essaying a new or unique character. In such situations, I tend to work harder towards becoming a perfectionist.
Tell us something about your character/role in the show 'Aapki Nazron Ne Samjha'?
Darsh is someone who lost his sight in an accident some years ago. He is also someone who is still lively and has come to terms with his reality and without letting his disability take away his zest for life.
Not To Miss :- NIA SHARMA'S BOLD STATMENT ON RAVI DUBEY " BEST KISSER"
Did you take inspiration from anyone for this differently-abled role?
I have sought inspiration by watching various films which have visually impaired protagonists like 'Sparsh'(1980's Bollywood Film starring Naseeruddin Shah and Shabana Azmi in lead roles) and the 'Scent of a Woman' (1992 American Drama Film starring Veteran and; Method Actor Al Pacino) and so on. These great pieces of work certainly helped me establish my character through each role is different in some of the other way hence I decided not to copy them and act my way according to the narration of my character.
What makes this show different from other shows?
The best part of our show is that the treatment has been kept very sweet and simple. No over-the-top drama or anything of that sort adds to the uniqueness of this show.
Tell us about the various preparations that you have undertaken for this character in the show?
This time, I have tried to let go of the muscular physique and have reduced weight in particular for this character. I have also closely observed and tried to pick up the required body language. Besides that, I have been meditating often to look calm and poise.
Tell us about your evolution as an actor in these last few years?
It has indeed been a great journey with a lot of unlearning and learning. I have surely evolved as an actor and there is refinement seen in my work. I have maintained a different approach towards each character as the understanding of the craft has increased with every passing day. I have been lucky enough to have received different and substantial roles on TV which enable me to work hard every day.
What is your agenda for 2021?
My agenda for 2021 is to make use of this great opportunity of essaying the role of Darsh and to be able to give a performance that viewers will love and remember in the coming years.
How are you keeping yourself fit these days?
Off late, I have been focusing on eating clean and indulging in fitness activities like walking, jogging, and doing bodyweight exercises at home instead of working out with weights.
Did you face any challenges while essaying this role?
The character of Darsh (in the show) happens to be a difficult and challenging role though I have been managing it well so far. During my rehearsal, I ensure to practice about 2 to 3 variations and then stick with the one that's most convincing for the final take. This helps me essay my character better.
Tell us about the bond you share with your co-star Richa Rathore?
Richa is a hard-working girl and she has been doing a great job. Although we haven't yet shot much together, we are quite friendly and understanding towards each other's way of work.
What else do you see yourself doing next?
For now, I will be concentrating on my upcoming show 'Aapki Nazron Ne Samjha'
How was your experience shooting outdoors in Dwarka city, Gujarat?
It was indeed a great and challenging outdoor shoot experience for me. The people around the city were very warm and welcoming, showering us with a lot of love. We ensured to tour the beautiful locales out there an gorged on various delicacies.
What is it like shooting for your show in the midst of this new normal?
Everyone has by now adapted to the new normal. In fact, I just shot for my previous show right after the lockdown ended and it worked well for me. Although, safety rules should always be followed and practiced by all.
How did you spend your time during the lockdown?
Got to spend a lot of time with my family besides that I tried cooking, reading, and painting. Also, wrote a few scripts, shot a short film at home, and did everything that I have missed out on while shooting hectic schedules.
Must Watch :- WHAT YOU'LL NEED TO KNOW ABOUT YUSUF PATHAN'S RETIRMENT