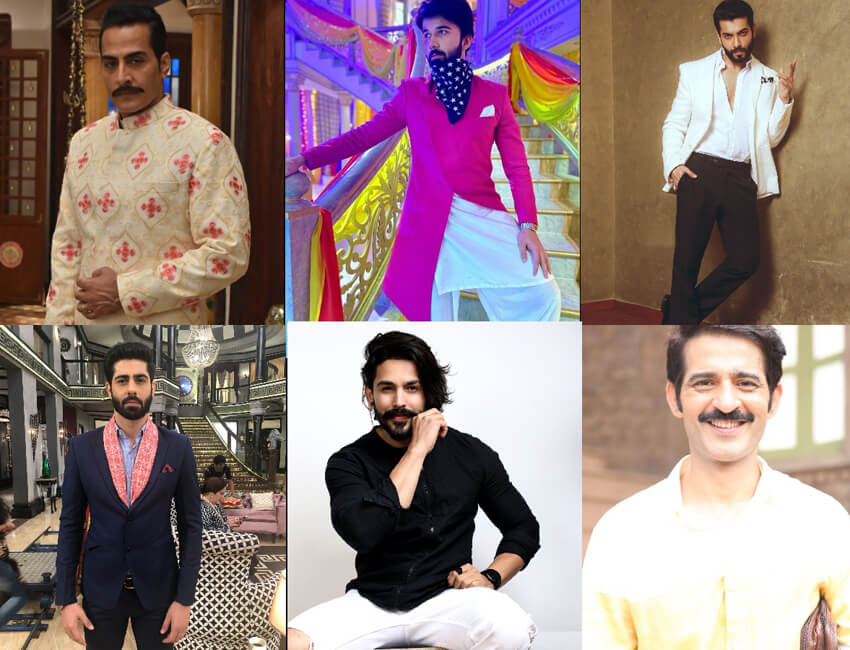 Of late a lot of male actors are flaunting facial hair on-screen. Be it for showing dominance, or being authoritative, or just looking good on-screen, these actors have brought back the trend of moustaches and beards, and they all agree that it makes them look more manly on the telly. So here's what a few actors, who are sporting moustaches and beards on the reel, have to say about facial hair, read on:
Sudhanshu Pandey, who plays Vanraj Shah in "Anupamaa": For me, moustache and beard signify one's identity. It's a very personal choice to have a moustache and a beard or both and sometimes you keep it just so that you look like a man. But I think it has nothing to do with manliness, if your heart is strong then nothing else matters. They do represent dominance and aggression but only on-screen because invariably this happens that if you want to show a man who is aggressive or villainous, they give him a moustache or a beard to make him look a little more dominant. But in real life, I don't think it's that. Aggression and dominance are part of one's nature, beard, or no beard. I completely agree that not everyone can carry a moustache or a beard because it has to suit your style, it has to suit your face, it has to suit your personality. So it's very important that if you keep a moustache or a beard then it has to compliment your personality, your physicality only then one should keep it. Personally, in terms of convenience, I prefer being clean-shaven because keeping a beard and a moustache is a task to maintain. The character of Vanraj has been given a moustache because I think they wanted me to look older than my age as that is the character that I am playing, I have grown up boys in the show, so if I don't keep a moustache we will probably look like brothers. So that was the channel's creative call and I think it worked well.
Also Read:- And finally good things begin to happen for Anupamaa
Sharad Malhotra, seen as Veeranshu Singhania in "Naagin 5": Facial hair makes you look very manly, it makes you look very macho, it adds a lot of intensity to your personality. It gives you a certain amount of weight. I am not taking away the fact that clean-shaven people are not taken seriously, it's not that, because I have been clean-shaven for the maximum part of my life and people have taken me very seriously and have loved it. But now it's just that people are getting to see a very different side of mine with the facial hair. It was demanding for the character as well and people somewhere connected and they related, off-screen also people have accepted and appreciated my bearded look. So by the grace of God, things just fell into place and I am personally loving the look now. I grew a moustache for my character of Maharana Pratap, which was also very manly. I remember people used to tell me that it looks very macho. I think boys are good, but people probably want to see men. You don't want to see the boy-next-door every time. But having said that I am loving this new rustic, grungy look with my facial hair. During the lockdown, my hair and beard grew and so when I went to meet the creatives of the show and we sketched out a character, we thought that the beard and moustache easily go with the character. It makes him look very macho, very manly, and very evil at the same time, and it would have been difficult to show all that in a clean-shaven look.
Shehzada Dhami, who was seen in "Yehh Jadu Hai Jinn Ka": Facial hair is something that anyone can keep, but it doesn't suit everyone, also not everyone can carry it. One should always opt for look that suits their face. For me, I think it went quite well with my face and though I have trimmed it now, I can keep it again whenever I like. On TV, I feel if someone keeps a moustache and a beard, either they are always sad or they are like an angry young man. That's the image that has been created. But it depends totally on your expression. Off-camera I love carrying a moustache and a beard, but being an actor I need to change and experiment with my looks too, so that the audience sees my different versions. For 'Yehh Jadu Hai Jinn Ka', they were looking for a character who had a moustache and a beard, and I fit the bill.
Rrahul Sudhir, who essays Vansh in "Ishq Mein Marjawan 2": I honestly don't feel that a beard or a moustache signifies anything. As far as dominance and aggression is concerned, facial hair has nothing to do with it, it comes from between your ears and nowhere else. Although aggression as a word has a slightly negative connotation attached to it. I don't associate it with being a man, I would rather say assertive. I agree that we are too consumed with our ideas about looking good or not. If nature didn't differentiate then who are we. Every man can grow a beard and moustache. Off-screen it is generally a beard because I am too lazy to shave, but on-screen I really want to be without a beard at least for now.
Also Watch:- One word for Rahul Sudhir and Helly Shah!
Avinash Mukherjee, seen as Soham Singh in "Shakti – Astitva Ke Ehsaas Ki": I think moustaches and beards have become a trend now because everyone is doing it. It has become more stylish and accepted in mainstream entertainment. It looks good, and men, women, and girls appreciate it. I don't think they represent dominance or aggression because they represent a little bit of gravity, a little bit of maturity, and it gives a little bit of shape to your entire personality and your face looks good with it. I think every man can carry a beard and if not that then can carry a moustache and some older men even carry a French beard as well, so I think a beard looks good on everybody. Off-screen I prefer a little bit of stubble. The show that I am doing 'Shakti…' I needed a beard for that and I was really happy because I was not very keen on being clean-shaven because of two things, it's a lot of work to keep shaving every day and secondly, even with a light beard your face has a definite cutting and it looks leaner and sharper. But keeping a beard, if it's not groomed then it doesn't look very good, so make sure you do that every two-three days.
Hiten Tejwani, the eldest of the four brothers in "Gupta Brothers": Male protagonists are indeed flaunting moustaches and beards on-screen. It also depends on where the story is based. Our story is based in Banaras, and in families there, if you have someone older, then the moustache gives him that feel of authority. And my character Shiv Narayan Gupta is the eldest one in the family and it goes well with his position in the family. To a certain extent, they represent dominance and aggression but it depends on a character. When we went to Banaras we visited a lot of houses there and we saw many elders in the family sporting moustaches and now even they are following the trend and growing beards. Not everyone can carry a moustache and a beard. It has to suit your face also and depending on that you need to style it and you need to keep the length, you have to see what suits your face the best. Off-screen I would love to grow a beard also, but my character only has a moustache so I am keeping it like that. I was ok to wear a moustache for the show because the whole idea is to look like the character. I have done this earlier also, but this time I have grown a moustache.
Also Watch:- Naagin 5 stars Surbhi Chandna, Sharad Malhotra, Mohit Sehgal dances on 3 Peg in between the shots