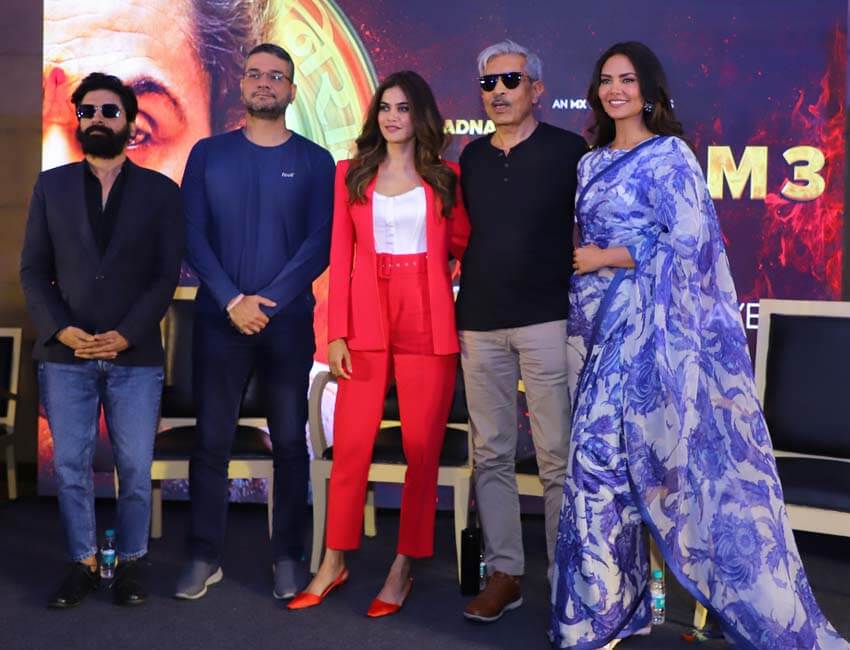 India's most-watched and loved web show Aashram is all set to release its third season on MX Player on 3rd June 2022. Watched by 160 MN unique users, the first two chapters of the show have been a massive hit among the audiences and are the biggest franchise on Indian OTT. In the upcoming season, of the riveting social drama as Bobby Deol a.k.a. Baba Nirala/Kashipurwale baba is back in a more intense and vicious avatar, who
continues to bend every rule to suit himself and has become a power-hungry adversary.
The much-anticipated trailer of the third season has certainly left the audiences asking for more. Producer and Director Prakash Jha said, "It was indeed a pleasure working with the team of MX Player who supported us throughout in all our decisions. I am blessed to have landed such a lovely set of cast members who put their life into the show and the crew who helped me bring out such a story."
Talking about the much-anticipated show, Gautam Talwar, Chief Content Officer at MX Player said, "The first two seasons of Aashram have been so well received by the audiences, with a total viewership of around 160 MN unique users and was watched by more than 60 MN users in Maharashtra and Delhi NCR alone. When we launched the trailer of chapter 3, we were trending at number 1 in less than 6 hours, all organically. That is the power of a good show, and this happens when people connect with the story. I'd like to thank my team at MX Player and the entire cast and crew of the show. But above all, the credit goes to the captain of the ship, the man with a vision, the man who breathed life into all the characters and the story, Prakash Jha."
Joining the powerful cast of Ek Badnaam… Aashram 3 is Esha Gupta, who plays the role of an image-maker in the series. Talking about the show, she said, "Hats off to Prakash Sir and MX Player for creating a show like Aashram which is very different and intrigues the audience. In fact, even I was a fan of Aashram before being a part of it. I am honored to be a part of such a successful show and the kind of love and appreciation that the audiences have shown towards the trailer of Ek Badnaam…Aashram 3 is overwhelming."
Aaditi Pohankar who plays Pammi said, "I am thrilled to be associated with Prakash Jha and MX Player who made a show highlighting how people blindly follow the Godmen and get entrapped in their doings. I am grateful to Prakash Jha sir for the role and his faith in me. Playing the role of a wrestler was unimaginable but I was able to do it under Prakash Sir's guidance."
Chandan Roy Sanyal who portrays the main character of Bhopa said, "Bhopa swami is a creation of Prakash Ji's mind. I would describe Bhopa's character as a snake who silently attacks you. There are a lot of colours you will see in Bhopa's character this time. I can't wait to see my audience's reaction when they see me once again as Bhopa."
With all the quintessential requisites of an entertaining show that combines politics, crime, and drama, Ek Badnaam… Aashram 3 revolves around the meteoric rise of godmen in India and how the masses blindly follow them in the name of religion. This fascination for godmen in India is prevalent for decades now. Backed by the elite and the political class, these self-proclaimed gurus fear no one. Despite convictions for violent crimes like murder and rape, people continue to believe in the supremacy of "fake gurus". Ek Badnaam… Aashram 3 brings to light the hard-hitting narrative through a fictional story of megalomaniac Baba Nirala who continues to exploit
women, indulge in the drug trade and control the politics of the town.
Produced and directed by Prakash Jha, the MX Original Series stars an ensemble cast comprising Bobby Deol, Aaditi Pohankar, Chandan Roy Sanyal, Darshan Kumaar, Anupriya Goenka, Esha Gupta, Sachin Shroff, Adhyayan Suman, Tridha Choudhury, Vikram Kochhar, Anuritta K Jha, Rushad Rana, Tanmay Ranjan, Preeti Sood, Rajeev Siddhartha, and Jaya Seal Ghosh.